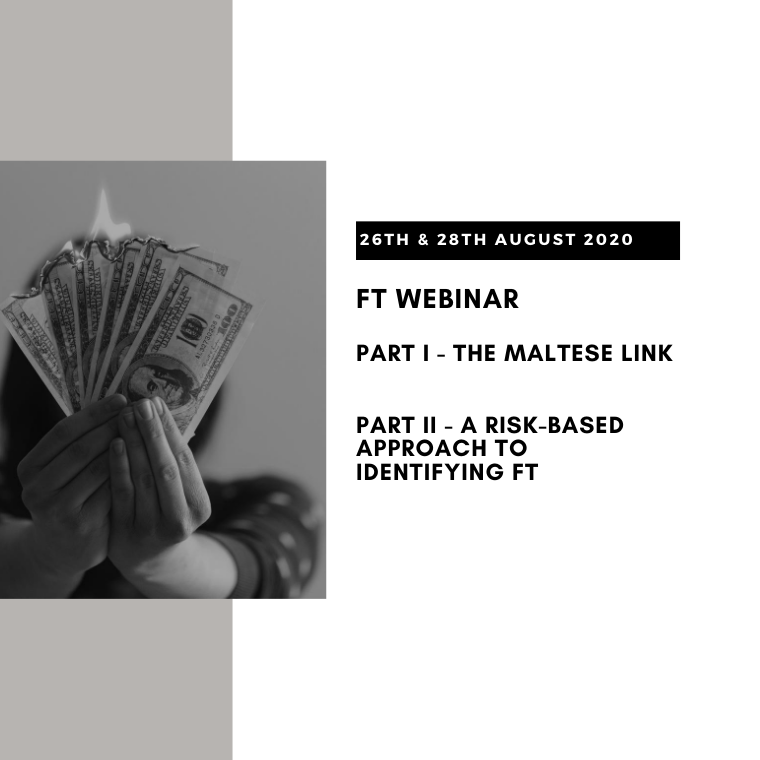 Webinar on The Funding of Terrorism (FT)
Webinar on The Funding of Terrorism (FT)
17th August 2020
The Financial Intelligence Analysis Unit (FIAU) is hosting a webinar on the Funding of Terrorism (FT), which may be of interest to all subject persons.
This webinar will be spread over two separate sessions lasting one hour each:
The first session will focus on the Maltese element of FT and will be held on Wednesday 26 August 2020 at 11:00am. During this session, we will provide an introduction to FT, highlight some of the major differences between ML and FT, and explore two case studies analysed by our Intelligence Analysis section. We will also be joined by the Executive Head of the National Coordinating Committee on Combating Money Laundering and Funding of Terrorism (NCC), Dr Helga Buttigieg Debono, who will present some findings of the 2019 Terrorism Financing Risk Assessment and lay out how FT may be linked to Malta.
In the second session, which will be held on Friday 28 August 2020 at 11:00am, we will be joined by AML/CFT expert Mr Yehuda Shaffer and we will discuss how the risk-based approach can be implemented by subject persons to identify the occurrence of FT. Some practical dilemmas and best practices will be explored.
The webinar is being provided free of charge, and interested persons may register for any or both of the sessions. Owing to the registration limit, it is being recommended that only one person from each subject person registers for the sessions.
Interested persons may watch a recorded version of the webinar which will be shared by the FIAU following its completion.
Registration for this two-part Webinar will open on Tuesday 18th August at 10am. Kindly follow the link to our Courses portal to register:
Part I: FT – The Maltese Link
Part II: FT – A Risk-Based Approach towards Combating FT
Webinar Guidelines
– To ensure that everyone connects on time, it is advised to join 15 minutes before the scheduled time to tackle any IT-related issues.
– Agenda briefing will start according to the scheduled time.
– The sessions will be recorded for our Guidance & Outreach Initiatives, and will subsequently be posted and shared online.
– To avoid any disruptions, please keep your microphone muted at all times.
– Questions can be submitted during the presentation of the session and will be answered in the Q&A session. Please submit only relevant questions.